HONORABLE MENTIONS

The following 10 designs from China, Canada, Spain, United States, Vietnam, Australia, New Zealand and Italy were awarded honorable mentions by the LA+ CREATURE jury. These designs will be published in full in the Fall 2021 issue of LA+ Journal, along with interviews with each of the jury members and a selection of notable designs making up a compelling and diverse Salon des Refusés.



YIRU WANG + YUN WANG (CHINA/UNITED STATES)
CORAL |
Anthozoa
Urgent research into artificial coral insemination and coral reef migration is required if we are to avoid further bleaching of reefs. This proposal is for an underwater cemetery where the remains of cremated bodies are added to carbon-neutral cement blocks, which are designed to host coral polyps. The cemetery will fund research into artificial reefs and can be scaled up to broach what is now a planetary problem of reef loss.
CONOR O'SHEA (UNITED STATES)
CICADA |
Magicicada septendecim + Magicicada cassini
Broods of cicadas emerge every 17 years – assuming, of course, that the land hasn't been paved over during their cycle. This proposal rewrites the municipal code of Chicago to ensure surfaces remain porous so that broods are able to emerge and make their symphony. This in turn becomes a cultural event into which the city of Chicago is tuned and a deeper understanding of and sensitivity to urban ecology engendered.
DAN PARKER + STANISLAV ROUDAVSKI (AUSTRALIA/NEW ZEALAND)
POWERFUL OWL |
Ninox strenua
Loss of habitat is forcing the Australian powerful owl to hunt in cities. Using the latest digital technology, "prosthetic habitats" for this notoriously fussy owl can be precisely fabricated to fit into trees in cities that otherwise lack the hollows the owls prefer to nest in. The 3D-printed wooden nests are tailored to suit the owls' habits and maintain thermal comfort.
SADIE IMAE + NATALYA DIKHANOV (UNITED STATES)
DESERT RAIN FROG |
Breviceps macrops
Bioreactors using the processes of sulfate-reducing bacteria are placed in toxic post-mining landscapes along the coast of Namibia to purify the tailings. As these bioreactors do their work of cleaning the water, the dunes are restored as habitat for the desert rain frog. Human movement is contained to boardwalks.
HUONG DINH (VIETNAM)
NORTHERN LEOPARD FROG |
Lithobates pipien
The northern leopard frog is the frog most school children know by vivisection in biology classes. This proposal is for an alternative biology curriculum centered on an outdoor classroom: a landscape where the full complexity of this creature's life is played out in narrative form so students experience an immersive encounter with the species and its habitat
AITOR FRÍAS-SÁNCHEZ, JOAQUÍN PERAILES-SANTIAGO + AASHTI MILLER (SPAIN/INDIA)
ORB-WEAVER SPIDER |
Araneidae
Orb-weaver spiders affected by radiation in the Chernobyl Exclusion Zone no longer make perfect webs, compromising their ability to catch prey. This design proposes robotic devices that provide the main architectural framework for the spiders' webs, allowing them to expend more energy on the prey-catching sticky spiral portion of the web. An array of sensors control movement of the devices to optimum locations and orientations for increased harvesting of prey.
MARZIA MICALI (ITALY)
COMMON OCTOPUS |
Octopus vulgaris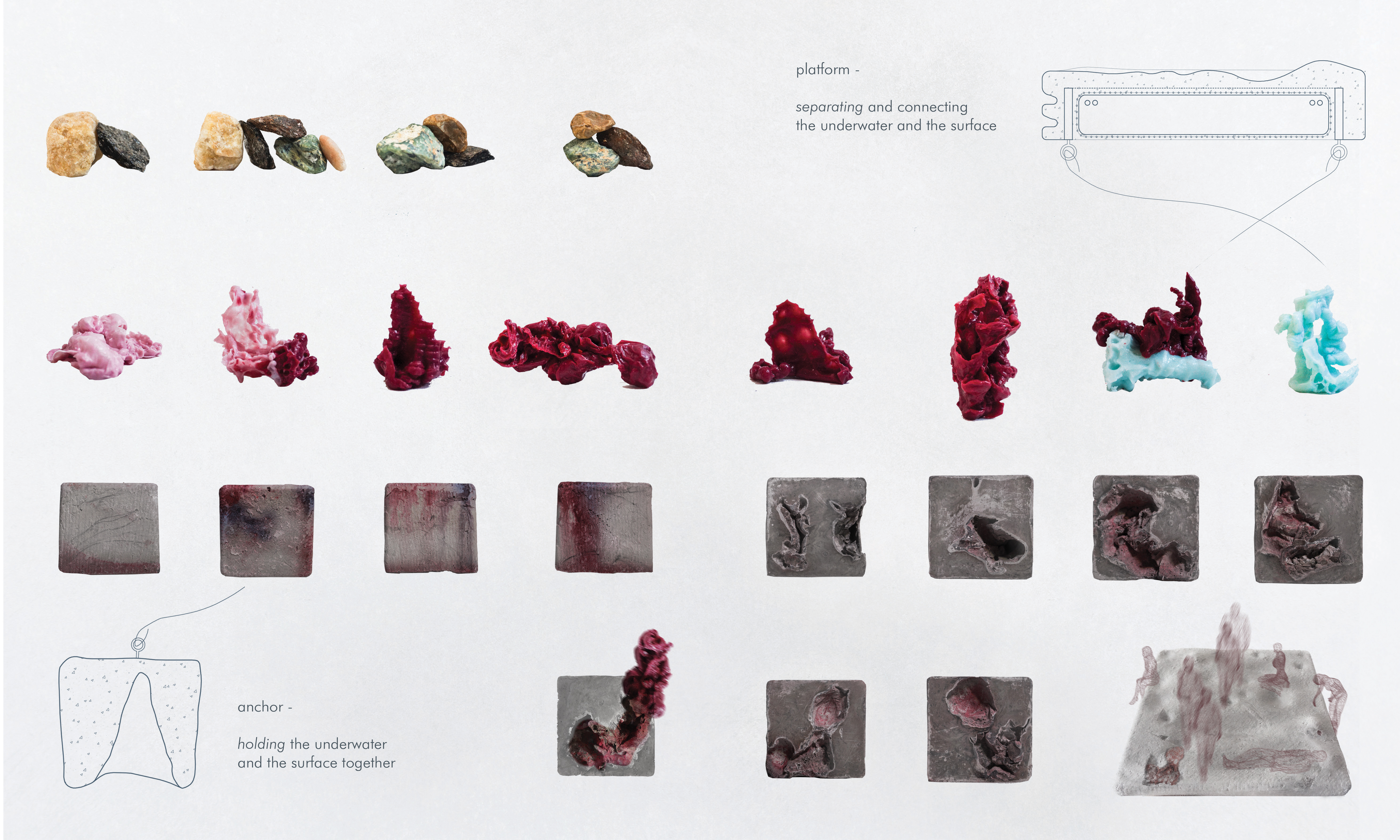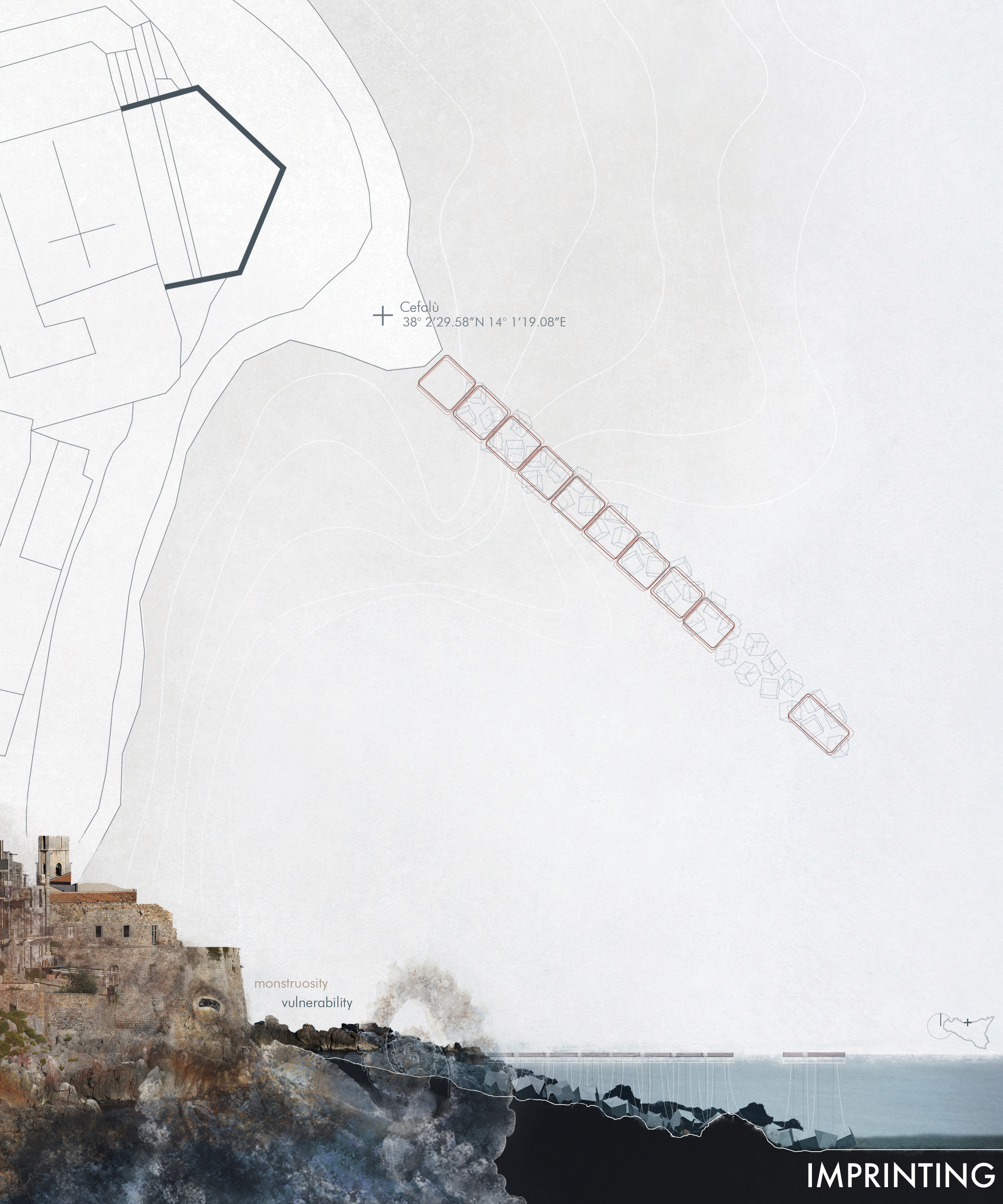 This design of an "Octopuses' Garden" off the coast of Cefalù in Sicily aims to bring humans and octopuses closer together. A floating jetty structure enables humans to walk across the surface of the ocean while the anchors that are tethered to this structure provide octopus habitat. The blocks anchoring the jetty are sculpted with niches ideal for octopi, while the floating jetty is sculpted to suit the shapes and movements of the humans above.
ZHOU WANG (CHINA)
PACIFIC WALRUS |
Odobenus rosmarus divergens
Walruses require sea ice on which to live and breed. Their migratory patterns are keyed into seasonal ice floes but climate change is now disturbing these patterns and walruses are becoming disoriented and dying as a consequence. This project is for a "walrus conveyor" that makes artificial sea ice platforms and, once the walruses are aboard, tows the sea ice to locations suited to the walruses' seasonal needs.
AROUSSIAK GABRIELIAN (UNITED STATES)
SHIITAKE MUSHROOM |
Lentinula edodes
Critical of the competition brief that positioned creatures as clients receiving human design services, this proposal emphasizes symbiosis between humans and fungi. The shiitake are cultivated in a container designed to receive human breath from which they extract the water they need and which they can then pass on to other species. (This project was developed in consultation with microbiologist Dr. Han Wosten, Utrecht University.)
HILLARY DEWILDT (CANADA)
CALIFORNIA BROWN PELICAN |
Pelecanus occidentalis californicus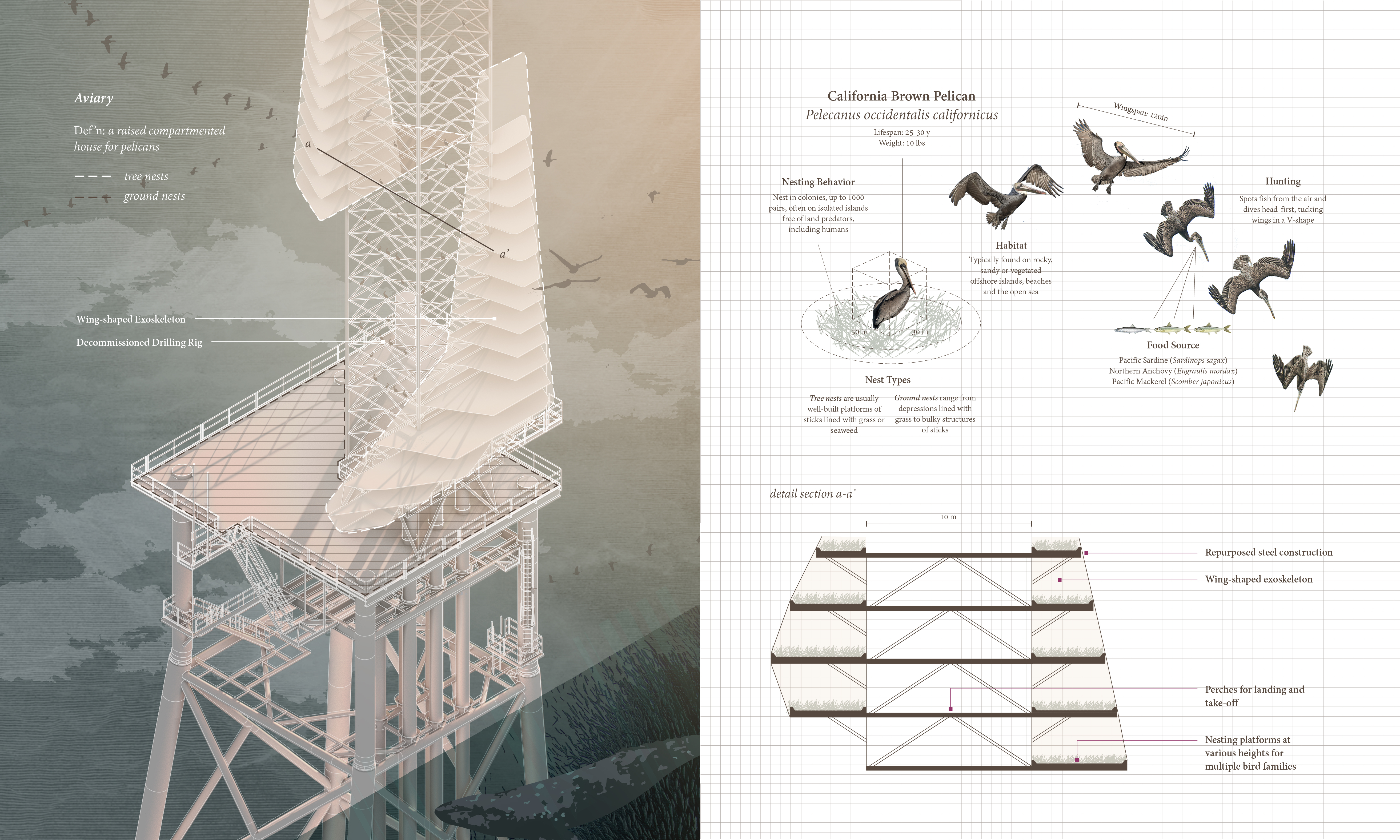 Derelict oil rigs off the coast of California are converted into habitat for the Californian brown pelican which makes an annual migration south to Mexico.