HONORABLE MENTIONS

The following 10 designs from China, Hong Kong , Italy, Portugal, Singapore, Croatia, and the United States were awarded honorable mentions by the LA+ INTERRUPTION jury. These designs will be published in full in the Spring 2023 issue of LA+ Journal, along with interviews with each of the jury members and a selection of notable designs making up a compelling and diverse Salon des Refusés.



JOSEPH HENRY KENNEDY JR. + VINCENT PARLATORE (USA) + HANA SVATOŠ-RAŽNJEVIC (CROATIA)
Location of Interruption: Multiple sites – European capitals
"PlayCarpet"
A ready-made surface to activate city streetscapes in multiple sites across Europe.
QIUTONG HUANG + JINGJUN TAO (CHINA)
Location of Interruption: Chongqing, China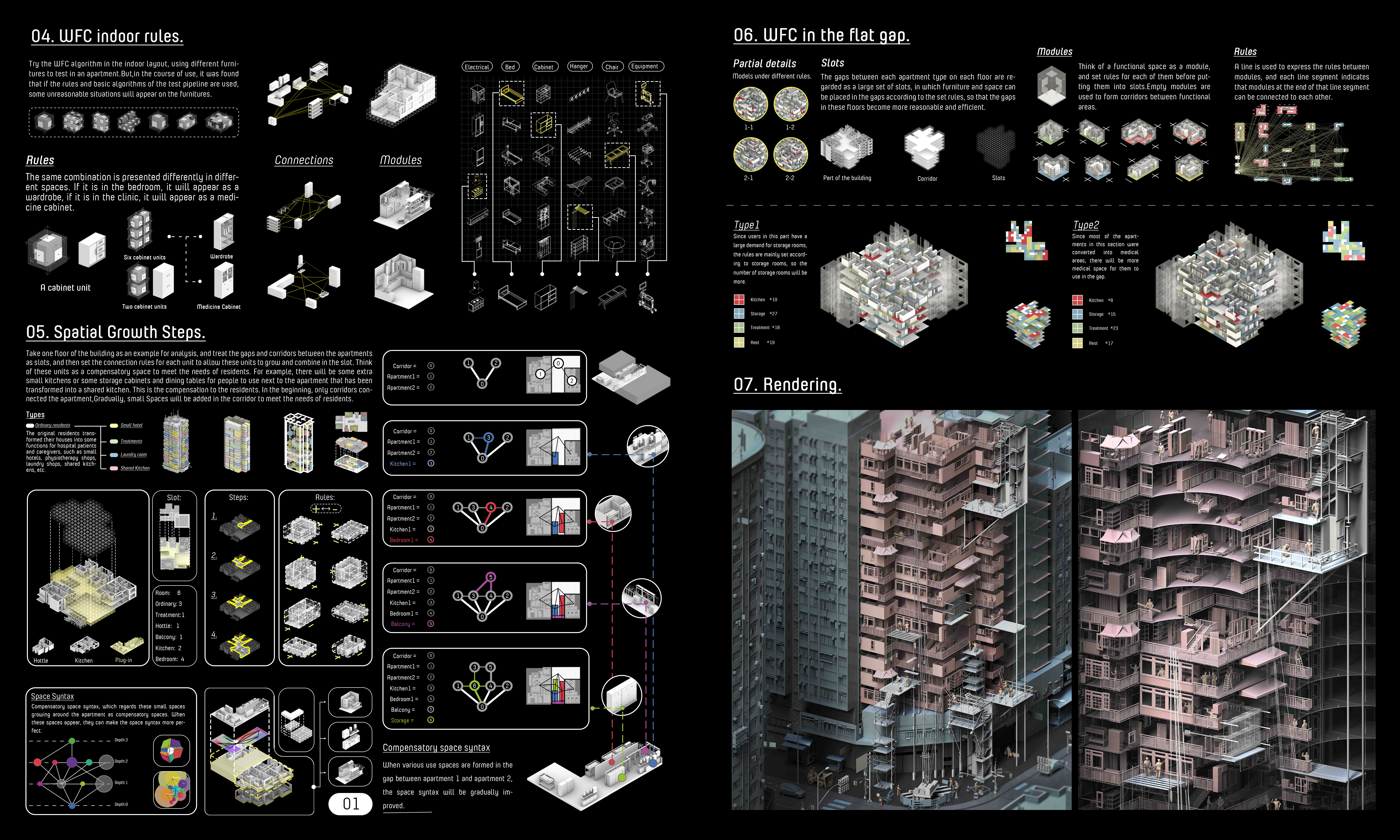 "Boundaries of Life"
A kit of parts centered on air conditioning and using the Wave Function Collapse Algorithm
to improve living conditions for poor cancer patients in Chongquing.
JONATHAN ARNABOLDI (ITALY)

Location of Interruption: Milan, Italy
"Jurban Archipelago"
Rewilding a section of Milan to the exclusion of humans.
OLIVIA PINNER + ADAM SCOTT (USA)
Location of Interruption: Multiple Sites - US oil refineries
"Decarbon-Fuzzification"
A Christo-like wrapping of 129 US oil refineries in pink polyester-fleece to celebrate and signify their decommissioning.
LILLIAN CHUNG KWAN YU (HONG KONG), WONG OI LING ELLENA (HONG KONG) + ZICHENG KAI ZHAO (CHINA)

Location of Interruption: Las Vegas, USA
"Root City"
A troglodytic post-capitalist urbanism associated with water under Las Vegas.
JIAQI LI + LEYI CUI (CHINA)
Location of Interruption: Beijing, China
Conversion of a Beijing factory into a plant production facility using artificial intelligence and biotech.
XIAOJUN ZHANG + PETER W. FERRETTO (HONG KONG, CHINA)
Location of Interruption: Guangzhou, China
"The Cemetery in a Market Fair"
A cemetery in a derelict village marketplace in Guangzhou to signify the loss of traditional vitality in agrarian villages.
EUGENE ONG (SINGAPORE)
Location of Interruption: Beirut, Lebanon
A memorial that refuses to sanitize or pacify the trauma of events in Beirut.
YANG DU + SCOTT AKER (USA)
Location of Interruption: Multiple Sites – Virginia, USA
A proposal to reorganize the way visitors experience the axial alignment of the Monticello, Montpelier, and Mt. Vernon estates built by slave labor in the USA.
ALLEGRA ZANIRATO (PORTUGAL) + REBECCA BILLI (ITALY)
Location of Interruption: Lisbon, Portugal
"Lisbon Archipelago"
An optimistic take on sea-level rise where Lisbon is arguably improved by virtue of rising sea levels to create a city of seven islands.